(1) Darstellung lebloser Gegenstände, 2021
Research, Editorial
Research into the history of Vanitas still-lifes, etymology and terminology of the term "Vanitas" and it's historical implementation. Over time, the understanding of the term "Vanitas" has taken different shapes and means for society. We now understand, that Vanitas received their hermeneutic purpose only along the late 15th century, becoming an important motive in literature and fine arts. Vanitas served as a political, clerical reference point for society up till the 19th century, and ultimately formed society in its philosophical understanding of beliefs and systems. The project resulted in an analysis, translated in the format of a publication.
✶ ✶ ✶

Mentoring by Alex Hanimann, Annamaria Vasvaria
VC ZhdK, Zürich, CH
February 2021 ongoing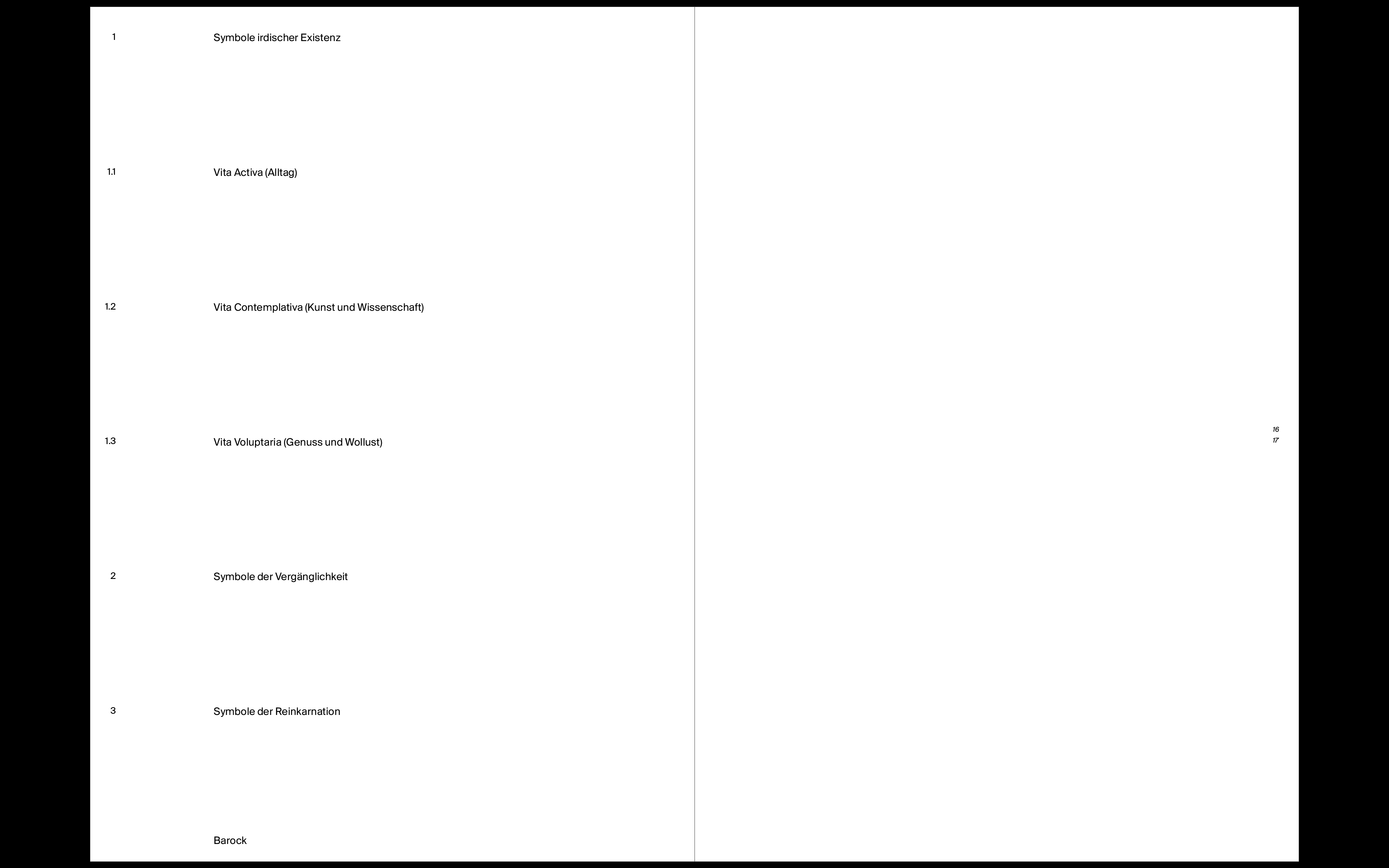 (2) Cybersluts and Anarcho-Cyberterrorists, 2021
Essay, Editorial
Essay on impulses behind Techno-Feminist Art Practice in the 90s. Exemplified on the Example All We Got, VNS Matrix, 1992. Cybertheorists and Techno-Scientists optimistically believed the internet would change the world for the better, and Cyberfeminists had techno-utopian aspirations for radical feminism in the 90s. As theoretical inspiration served theorist Donna Haraway who wrote the The Cyborg Manifesto that rejects the rigid boundaries that separates binaries like human/animal, man/woman and natural/artificial. The work of VNS Matrix, an australian based art collective / representatives of early feminist cyberart, was inspired by Haraway's writings. Their work talks about female identity and stereotyped thinking about gender and technology during that time. The essay focuses on some of these examples from the perspective of modern feminist art practive, questioning the patriarch infrastructure in art. The project resulted in a written essay, translated in the format of a publication.
✶ ✶ ✶

Mentoring by Tania Messel
VC ZhdK, Zürich, CH
January 2021 ongoing
(01) Kurt Pinthus, Menschheitsdämmerung, 2021
Specimen
Menschheitsdämmerung - with the original subtitle " Symphony recently seal " - is an expressionist lyric anthology, which got issued by the German writer and journalist Kurt Pinthus by the end of 1919. The anthology brings together known expressionist writings from that time, which reflect upon the political, social uprisings in Mid-Europe, specifically in Germany. Their writings are beholding, worshipping mostly the loss and sorrow of the 1st World War. The first poem in the anthology "End of the World" by Jakob van Hoddis became well known and also served as an inspiration for my project. The original issue was burned during the book burning in Germany in 1933. I am fascinated in historical documentation, different formats of narratives and somewhat questioning the purpose of archiving.

"Menschheitsdämmerung" has profoundly shaped the character of the Typeface Apoc, which i created specifically for this purpose. Have a look at it here. ⇠
✶ ✶ ✶
Self-initiated Project
Zürich, CH, 2021
(02) ffi, Type, 2021
Typedesign
ffi is a serif-accentuated classical typeface. Inspired by 1920 czech typedesign, woodencuts and unorthodox language.Abrupt change of hair and shadow lines, introducing a rhythmic type, but with mutual proportions, legible and inconspicuous; In order to incorporate certain characteristics of the history of typography, ffi is/can be seen as a compilation of different stylistic streams. So far the typeface is only available in Regular but the Italic version is in the making. ffi prefers to be used in a bodytext, 7pt, with max. ligatures.
✶ ✶ ✶

Mentoring by Mauro Paolozzi
VC ZhdK, Zürich, CH
March 2021 ongoing

(03) Donna Haraway, A Cyborg Manifesto, re-edit, 2020
Editorial, Re-edit
Donna Haraway's writings have influenced my personal projects, and delivered fundamental inspiration for my own writings and formed my critical standpoint in terms of social gender norms and binary gender roles. The Cyborg Manifesto is often being referenced in the context of feminist art practice. VNS Matrix took the opportunity to form an immediate translation of the Cyborg Manifesto and turned it into their own artistic / political interpretation: The Cyberfeminist Manifesto for the 21st Century. With this publication, book or binding, I intend to overbring gratitude and appreciation for the writings of Haraway.
✶ ✶ ✶

Self-initiated Project
2020, Zürich, CH